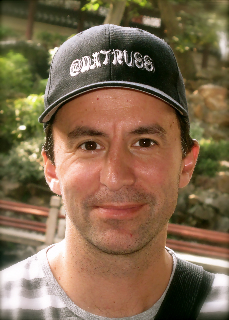 For the C4T, I was assigned to Mr. David Truss, a Vice Principal with the Learning Innovations Network Coquitlam (in BC, Cananda) and with Coquitlam Open Learning & the new Inquiry Hub. His blog
Pair-a-Dimes For your Thoughts
is a place for many, many helpful advice and words of experience from him as an educator.
I commented on one of his post called
"Pushing and Nudging with Andy Hargreaves"
that consisted many, many great quotes about the quality of teaching and how we should teach our students! He was posting about a book called "The Fourth Way: The Inspiring Future for Educational Change" by Andy Hargreaves and how that book made him rethink about our education. Within the post, he provided many quotes and phrases from Andy and twitter. It wasn't a very long or a detailed post but the quotes alone can make you think. One quote that made me think the most is one said by Andy Hargreaves. He says "the most significant in-school factor that affects student achievement is the quality of teaching." Like I told David Truss in my comments, many people misunderstand what "quality teaching" really is. A teacher has to teach effectively, support their students, be a guide and role model and etc. There has to be a structure. Without structure, everything is hectic and unorganized! A teacher has to be committed and understand that students will need your help!
Even so, I asked him what he kind of suggestions and advice he would give to a new teacher since we are all hoping to be teachers one day! He replied with a strong and powerful answer! It really sparked me and I never even thought of it that way. He chose the right words to relay his message. He says that he would suggest new teachers to be fearless and "model what it means to be a lifelong learner". By this, he means that we should teach our student to be daring, to accept failure and learn how failure can become the best teacher. With failure, you make new learning experiences, learn new ways to approach a problem and make you wiser. This isn't just to teach the students for a school environment but for their entire life. It's like what most people say. Mistakes are our best teachers. We learn the most when we make mistakes. David Truss is absolutely right on that! I'm quite surprised he actually replied!
On my second C4T assignment, I had the pleasure to read and comment on one of his most recent post,
Digital Literacy and Inquiry Hub
. He talks about a new system that they are running for their students. It's basically an online hub where students use technology to learn. Even though they are starting this, most students do not have the require skills to use it. During one of his lessons, he had to teach the students the basic essentials before using technology to communicate with the outer world. He taught them how to control themselves and respect. He also did a toothpaste activity and read a story called "The Bad Temper" to explain how the toothpaste project was related. Basically the students emptied the toothpaste tubes and had to put all of it back into the tube with provided resources. The students were broken up into groups of four and had to figure it out. This required team work and patience. It was very interesting. The activity is not so much about the toothpaste but how the students behave towards each other as they get frustrated with the activity. It's a life lesson. This is a good learning experience and it is helpful especially before using technology to communicate online.